If you're reading this probably looking for the best commercial embroidery machines for your business. And if you're thinking of starting or already running an embroidery business, one of the most common questions today is which embroidery machine is best for commercial use?
These commercial embroidery machines are capable of handling big embroidery projects than a regular embroidery machine. And they can help your business grow fast. With various brands, products, and models out there, choosing a good commercial monogramming machine suitable for your needs is very challenging.
But you shouldn't worry, we have listed below the top choices of the best commercial embroidery machines based on their features and quality.
Summary of the Best Commercial Embroidery Machines
What Is The Best Commercial Embroidery Machine?
Janome Memory Craft Horizon MC12000 Professional Embroidery, Sewing & Quilting Machine
What makes this machine unique is that it's a 3in1 machine, it can embroider, quilt, and sew at the same time. It is considered one of the best commercial embroidery machines for home business and embroidery business because of its built-in features and usability. It's a screen touch machine you can select and edit fast and easily. This machine allows you to create and edit designs on its touchscreen or on a computer with HorizonLink.
Janome Memory Craft Horizon MC12000 features a 338 built-in embroidery design and comes with a 4MB internal memory which gives you enough space to upload many new designs. You can adjust the settings automatically with the auto height and pressure settings.
The Janome Memory Craft hat embroidery machine features 425 Built-in stitches, a Zig-Zag Foot which is used for most utility sewing, an Automatic thread cutter with memory function, a free arm, an Extra high presser foot lift, and others. You can preview, create and seletect designs with janome horizon memory craft LCD Full-color touchscreen. Consider the machine if you're lookign for the best commercial embroidery machines with features at a good price.
ACCESSORIES INCLUDE
1/4 Inch Seam Foot O
AcuFeed Flex™ Dual Feed Holder with AD Foot
AcuGuide Cloth GuideAcu
View Magnifier Holder with 20x Lens
Automatic Buttonhole Foot
Blind Hem Foot G
Bobbin Holder for Embroidery (High Tension)
Button Sewing Foot
Concealed Zipper Foot Z
Darning Foot
Embroidery Foot
Embroidery hoop
Free Motion Quilting Zig-Zag Foot
Knee Lifter
Open Toe Satin Stitch Foot
PROS:
425 Built-in stitches,
Connects to both a PC and a laptop
Automatic thread cutter
338 built-in embroidery designs
Combines both embroidery and sewing
LCD Full-color touchscreen
Computerized embroidery machine
Lettering fonts
Warranty
When you purchase Janome Memory Craft Horizon MC12000 machine you get a 25 years limited warranty.
Price Range
The price of Janome Memory Craft is $9,999.
Janome MB-4N 4 Needle Embroidery Machine Reviews
Janome MB 4 needles commercial machine comes with outstanding features you need to take your home business to the next level. The best commercial embroidery machine for home business 200 – 2021.  The machine comes with a backlit LCD touch screen giving a full viewing of stitches, create and select stitches. It also comes USB port where you can import embroidery designs from PC to the machine.
Features
Embroider at speeds of up to 800 SPM
2 and 3 letter
10 monograms
50 lettering fonts
Accessories
Hoop M1 (240 x 200)
Hoop M2 (126 x 110),
Bobbins
Hoop M3 (50 x 50)
Needle threader
Needles
Lint brush
Thread guide pole
Scissors
Seam ripper
A pair of Tweezers
Warranty
You get a 1-year limited warranty when you buy this machine
Price Range
The Janome 4 Needle machine costs $8,499.
Janome Memory Craft 400E Embroidery Machine
I've designed a reliable memory craft that can do large projects with ease. This machine has an embroidery field of 7" an appropriate size for allowing experimenting on fabrics.
It has a full-screen LCD touch screen that can turn on all sorts of functions.
Just a few movements make this function possible. Janome 440e has 160 designs inbuilt and you can use a USB port for more.
It can also be combined with two designs using a touchscreen. Included in this machine are needles to put in, embroidering feet plastic bobbins screwdrivers, spool holders embroidery pins, and extra spool holders.
Features
Embroidery size: 7.9" x 7.9"160
160 Built-in designs
Built in USB port 
6 fonts for monogramming
2 and 3 letters monogramming
Embroidery sewing speed: 400-860 SPM
Auto return post thread break
On-screen editing functions
PROS
Built-in Memory
400 – 860 stitches per minute
Best embroidery speed
Editing features

Best embroidery speed
Price Range
$25000 – $3000
Janome MB-4S Four-Needle Embroidery Machine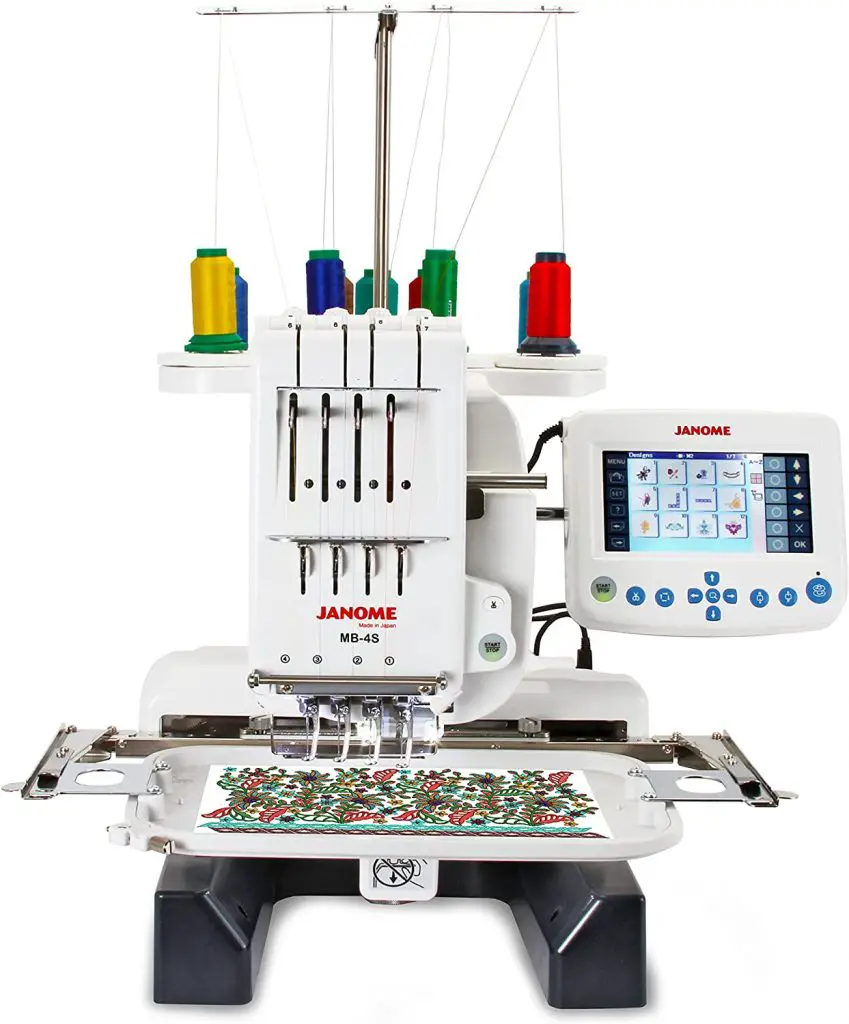 Janome MB-4S is one of the best options for those who are new to sewing. and also it is a commercial embroidery machine that can be used with hats. Its unique Remote Computer Screen gives you total control of set-up, design. editing and stitching with its large LCD display screen for outstanding and impressive results.
Features include 3MB internal storage where you can store over 100 designs and up to 1,500,000 stitches. This embroidery sewing machine is so faster as it can 800 stitches per minute. It also uses up to 65,536 colors and the automatic thread cutter which cuts threads at the end or even between letters so you save time and hassle.
This industrial embroidery monogram machine winds new bobbins even when the machine is working on the current design. Janome MB-4S works with most embroidery formats, including those used by industry professionals. The machine also is equipped with 50 built-in designs. This is a great machine choice for professionals, individuals, and small businesses. This is the machine you need with the best embroidery speed to handle your embroidery project.
Accessories
Hat Hoop / Embroidery hoop (100mm x 60mm)
Lettering Hoop Holder Unit
Janome No.7 Lettering Hoop J8 (25 x 121)
Janome No. 9 Lettering Hoop J6 (66 x 66)
PROS
3MB Memory
800 stitches per minute
Remote control system
Best embroidery speed
Automatic needle threader
Best embroidery speed
Warranty
The machine comes with 3 years and four-year protection plans. You need to contact the seller for inquires about the warranty.
Price Range
The Janome MB-4S Four Needle embroidery machine price range from $8,499 and $9,999 depending on where you buy from but you can find the right price on Amazon
RiCOMA EM-1010 10-Needle Embroidery Machine Reviews
Ricoma EM-1010 is an essential and must-machine for embroidery enthusiasts. This machine uses ten needles and speeds up to 1000 SPM, this allows you to manage, customize, and output designs easily and quickly. The machine comes with 10 built-in fonts, 200 designs, and 20 million stitch memory which allows you to upload and edit design settings and also create customized lettering.
You can also use the built-in "Embroidery Library" feature found in this industrial embroidery machine to organize, searching and browsing your embroidery designs. High-Definition True-Color 7″ LCD Touch Screen this allows you to operate with right-hand thumb easily
This is one of those commercial embroidery machines that is equipped with a USB port whereby you can transfer designs from your laptop or computer and add them to the machine memory, you get access to thousands of embroidery designs from ibroidery.com. You can also manage designs easily with wireless or ethernet connectivity. It also comes with preset hoop parameters, there are designed to avoid hitting hoop frames.
Accessories
Starter kit with bobbins, thread, and other items
Wilcom Hatch embroidery software
Pre-set embroidery hoops
PROS
200 designs
Embroidery library
10 built-in fonts
High-Definition True-Color 7″ LCD Touch Screen
USB port
Automatic needle threader
Larger embroidery area
Warranty
You get 25-year limited warranty when you buy EM-1010 10-Needle Embroidery Machine .
Price Range
The Ricoma EM-1010 price ranges from $9,599 and $9,999 but you can find the affordable price on Amazon
Brother SE1900 Computerized Commercial Sewing and Embroidery Machine with 138 Designs and 240 Built-in Stitches.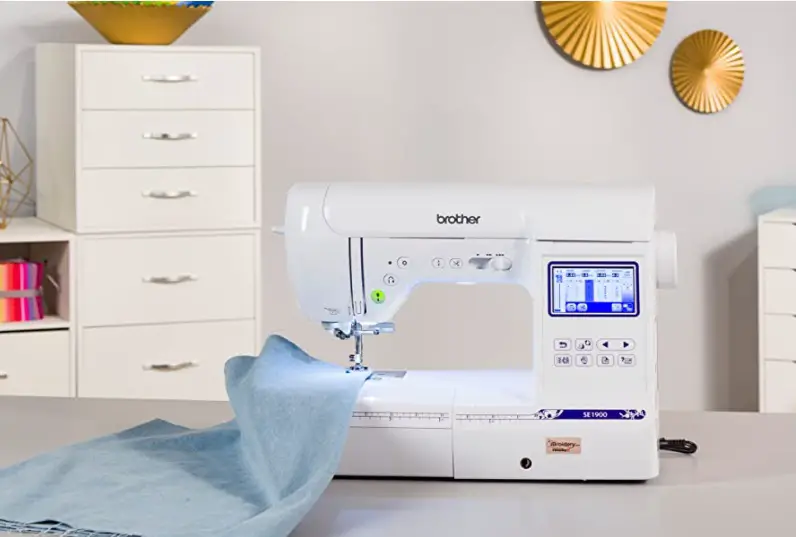 The Brother SE1900 Sewing Embroidery might look small in size and other machines but actually one of the best commercial embroidery machines in 2020 and 2021for the embroidery business and small business. This machine is also great because of its affordability.
This brother embroidery machine can sew, embroider as well as quilt. It also comes with 240 built-in stitches and 128 built-in designs giving you a variety to choose from. And the automatic needle threader that takes care of the threading for you. This is one of the Best Sewing Machines for Advanced Sewers
The machine is equipped with a 5 x7 embroidery space and a large color touch display screen these allow you to handle large projects and create impressive embroidery designs. The Brother SE1900 is a great machine for small businesses and individual use. If you're looking for the best hat embroidery machine consider Brother SE1900. Read about Brother SE1900 Review
ACCESSORIES INCLUDE
Overcasting Foot
Monogramming Foot
Adjustable Zipper/Piping Foot
Zigzag Foot
Buttonhole Foot Zipper
Foot Stitch Guide Foot
Non-Stick Foot
Open Toe Foot,
Embroidery Foot
Blindstitch Foot
PROS
Automatic features
Small business and individual use
138 built-in designs
11 fonts for monogramming
3.2-inch color touchscreen.
The capable of 17.78 x 12.7 cm
Affordable price
Automatic needle threader
MakeIT Products and Equipment Commercial Embroidery Machine
The MI1 WS-C1501 is easy to use and suitable for all commercial embroidery on flats, caps, 3D puff, denim, finished garments, and more. Whether you're running a home business, startups, or expanding businesses this machine is perfect for you. This machine is suitable for commercial embroidery projects on 3D puff, caps, flats, denim, and more.
The machine embroiders at a high speed of 1200 Stitches Per Minute which means it is capable of performing large projects faster and easier. It comes equipped with a 15 Needle single head, 10 inch Touch LCD Panel.
There is also a USB port that allows you to transfer the design from your computer of the laptop to the machine's internal memory. You can also connect with the ethernet cable and transfer the design to the smart touch panel. This machine also comes with an on-screen keyboard feature that allows you to customize fabrics with just a touch.
PROS:
15 needles
1,200 stitches per minute
On-screen keyboard
Ethernet connectivity
USB Connectivity
Many hoops included
Infrared Safety Field
Embroidery Patterns
Embroidery area
Janome 001MB7 Multi-Needle Embroidery Machine, White
The Janome 001MB-7 professional embroidery machine is the machine you need to conquer all your embroidery projects best for entrepreneurs. This commercial embroidery machine is built with impressive features such as a UBS port to allow you to import designs to the machine easily.
This multi needle embroidery machine also works with industry professional embroidery formats such as dst, jef+, Jef, and others. The comes with 50 built-in embroidery designs and 10 fonts for monogramming. This machine process at a high speed of 800 stitches per minute and comes with 6 white LED light to easy threading. You can handle, create and edit your designs on a 5.7 inches remote computer screen and 7 needles for changing thread color.
PROS:
800 stitches per minute output
Maximum embroidery size: 9.4″ x 7.9″ / 238mm x 200mm
Programmable jump thread trimming
Stitch counter and stitch out time indicator
7-Needle Embroidery Machine
Best for embroidery work
Larger embroidery area
What To Look For In A Commerical Embroidery Machine
Embroidery Field
One of the most important things to consider when choosing the best commercial embroidery machine is the embroidery field. Choosing the machine with a large embroidery field will help you handle large projects and makes work fast.
Hoops
The hoops keep everything running smoothly, some companies offer 1 and others 2 or 3. But it better to consider buying a machine with many hoops.
Large Memory
Having a best professional embroidery machine with a larger built-in memory gives you a big space to upload and store new designs every day without the need to delete old designs.
Built-In Designs
Also, this is another thing to consider though you're given options to upload as many designs you want a machine with many designs is better.
Best Commercial Embroidery Machine Brands
The best commercial embroidery machine brands include;
Best Commercial Embroidery Machines in Conclusion
The embroidery machines we listed in this commercial embroidery machine reviews are the top-rated by the buyers. Hope the above list has helped you find the best commercial embroidery machine for your business.
OTHER SEWING MACHINE ARTICLES