Last Updated on 9 months by Susan Mayrich
This Brother CP100X review will let you know more about the product. For sure, after reading this, you will be amazed by its features. And from here, you can decide whether or not to purchase this for personal use.
Computerized sewing and quilting machine is the perfect sewing machine for anyone looking to take their sewing and quilting skills to the next level. Its wide range of features can handle any job you throw at it.
This sewing machine will have you covered from piecing together a quilt or making clothes for your family. Brother has designed the CP100X with everything an expert sewer needs in one easy-to-use package: stitching up thick denim jeans or creating a custom dress from scratch.
Consumer Ratings
Some owners claim that the computerized needle threader makes it easy to set up your machine with no hassle.
The machine is light, and the decorative stitches are beautifully done. Others say that automatic tension adjustment ensures stitches come out looking uniform each time–you won't need to worry about making adjustments yourself anymore!
| | | |
| --- | --- | --- |
| Source | Consumer Ratings | #Ratings |
| Amazon | 4.8 stars out of 5 | 25 |
| Walmart | 4.7 stars out of 5 | 19 |
| Joann | 4.4 stars out of 5 | 24 |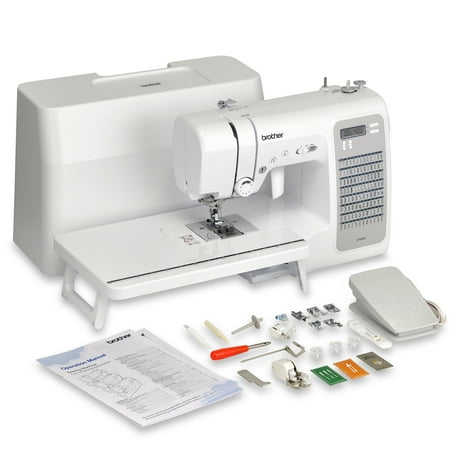 $335.55
in stock
2 new from $335.55
8 used from $187.67
as of 6:52 pm
Key Specifications
These are the things liked and disliked by consumers on Brother's CP100X computerized sewing and quilting machine:
Convenient stitch chart
100 built-in stitches
Sharp LCD screen
Quick-set bobbin system
Adjustable sewing speed control
Eight one-step buttonholes
Easy stitch selector
10 included feet such as zigzag foot
Automatic bobbin winding
Easy drop-in bobbin
1-step automatic needle threader
Wide table
Protective hardcase
Durable metal frame
Fixed needle bar
Main Features Of Brother CP100X Sewing Machine
So, here's a Brother CP100X review and its main features that you may like:
#1. Built-in stitches
It has over 100 unique built-in stitches, so there is a stitch for whatever type of sewing project you have in mind. The machine also comes with a wide table perfect for piecing together quilts or making clothes from fabric. The sewing and quilting machine is straightforward, and even beginners can get the hang of it quickly, thanks to its easy-to-follow instruction manual. In addition, it's lightweight and portable, perfect for home-based workshops or tailors.
#2. Automatic needle threader
One of the best features of the sewing machine is its built-in needle threader. Thanks to this intelligent automatic needle threading system, you can avoid pulling out your magnifying glasses or holding up a light every time you need to thread your machine.
#3. Adjustable sewing speed control
There are many advantages to Brother's CP100X sewing machine. One of the most noticeable is its adjustable sewing speed control. This means you can set it so it doesn't go too fast for you or so slow that your project isn't finished on time.
#4. Durable metal frame
The Brother sewing machine is made with a durable metal frame which makes it resistant to all the damage that can come with daily use. As a result, it is a fantastic product that rates high durability.
#5. Easy drop-in bobbin
Customers who reviewed the Brother CP100X said they love how easy it is to keep your machine always ready to go. The drop-in bobbins make it so easy to start sewing without worrying about winding, threading, or setting up.
#6. Easy stitch selector
A stitch selector makes selecting a stitch easy. It is the most often used feature on a sewing machine and is usually located near or above the work area on the front panel.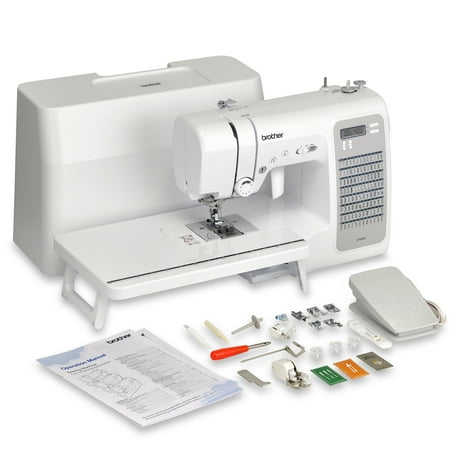 Brother CP100X Computerized Sewing and Quilting Machine with 100 Built-in Stitches
Last Amazon price update was: 6:52 pm
Brother CP100X Manual
The Brother CP100x sewing machine manual includes detailed illustrations and diagrams that provide step-by-step instructions for following a sewing project from start to finish. The manual also helps you identify any problem areas and troubleshoot and solve them.
You can download the manual from the Brother website, as well as the following:
Operation manual
Sewing guide
Instruction manual for accessories
Quick reference guide
Stitch chart
Related Topics
How To Set Up Brother Sewing Machine |8 Simple Steps
Brother ST371HD Sewing Machine Review
Brother Project Runway CS5055PRW Machine Review
It's A Wrap!
This Brother CP100X review has given you everything you need to know about this product. the machine is an excellent choice for all your home or professional projects, from its adjustable sewing speed control, built-in needle threader, and 100 stitches. in addition, the comprehensive table makes it easy to piece quilts together while still maintaining a sharp edge on your fabric.
It's lightweight and portable, so even tailors can take their work with them anywhere they go without sacrificing any of the quality that comes from being made with durable metal frame construction. This computerized sewing machine also includes many different accessories beyond comparing to other models in its class range. This machine has been conceived for all people, both professional and amateur.
So whether you are an expert in sewing or just looking for a hobby, this machine will accommodate your needs. You may also want to read about fixing common sewing machine problems and brother sewing machine won't work.