Last Updated on 9 months by Susan Mayrich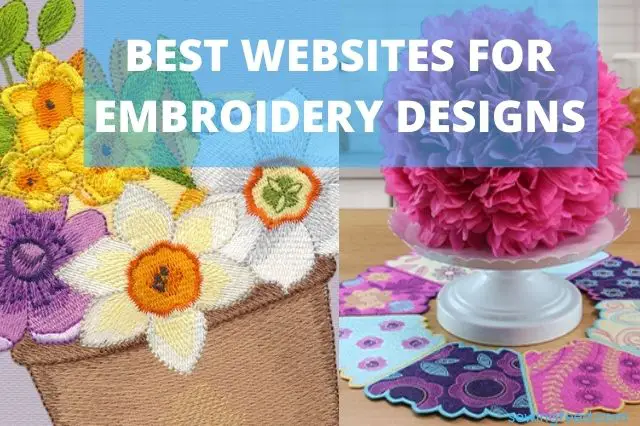 If you're looking for the best embroidery design websites where you can browse many designs and check out new projects daily, here are the top 12 websites to choose from. 
They have extensive categories with a selection of free and for-purchase embroidery designs. We also provided tips on choosing the best website for machine embroidery designs. 
And since the list of patterns can get overwhelming, people who only want the free option can check this content on where can I download free embroidery designs for online ideas. 
Top 12 Embroidery Design Websites With Free, Affordable, and All Kinds Of Embroidery Designs And Projects
Did you know that the most popular embroidery design websites are EmbroideryDesigns.com, EmbroideryLibrary.com, and UrbanThreads.com, according to Statista? They each offer various machine embroidery designs and projects to choose from. 
However, you can also check each name below if you have specific things you're looking for. You'll know the best sites for ITH embroidery designs, free embroidery designs if you don't want to purchase files and embroidery websites for various specific projects. 
Most Popular Embroidery Design Websites
There's a reason why people favor some embroidery design sites over others. And for those looking for the best place to get different categories of embroidery designs, consider any of these three popular embroidery design websites: 
According to EmbroideryDesigns.com, they are pioneers in stock embroidery designs. They started in 2005, and you can browse from their selection of hand and machine embroidery designs with supplies and tutorials. 
Another famous place for machine embroidery designs is EmbroideryLibrary.com. They started in 2001, and you can purchase designs in various formats, size types, and stitch counts to help you choose the best one for your embroidery machine.
You can download a lot of artist-crafted machine embroidery designs for beautiful projects UrbanThreads.com. It's not surprising that people love this shop because of new design releases in a format that suits your embroidery sewing machine. 

Top Embroidery Design Websites For In The Hoop (ITH) Embroidery Designs
Those looking for ideas on where to get files and many designs for in-the-hoop embroidery can try this list. These sites are perfect for those who want to experience making a selection of projects like stuffed animals, purses, and items you can make on an embroidery machine. 
If you purchase your ITH machine embroidery designs for a specific amount on Designs by Juju, you can score bonus bundles in your account. This means you can get free useful items, like applique designs, to add to your sewing and embroidery kit at home. 
Another fantastic shop to complete your ITH embroidery projects wish list and browse embroidery tutorials is Anita Goodesign. Their designers create original, custom designs; you can always be updated with sales via their newsletter.
If you have a limited budget, try Daily Embroidery for an affordable collection of embroidery designs. Stuffed animals are available for under $3 as of this writing, and you can email them for suitable embroidery software for the project. 
Best Embroidery Design Websites For Free Machine Embroidery Designs
Do you know that there are free embroidery designs ready for download online? Browse these crowd favorites for free designs, but make sure you know the format you need for the project. 
Sweet Pea Machine Embroidery
Free designs and projects on the Sweet Pea Machine Embroidery site are limited compared to other websites. However, it's still worth checking the files, especially since they don't require a purchase to download. 
One of the places to get embroidery machine designs regardless of format, embroidery software, or embroidery machine is Sulky. Be on the lookout for free designs and projects in the site's categories. 
Do you want an extensive list of free machine embroidery designs and projects? Both members and non-members can enjoy many free designs available for download AnnTheGran.com.
Runner Up Embroidery Design Websites For Specific Projects
Do you have specific projects and things to do with embroidery? Consider making an account on these embroidery design websites to get the most out of your experience and purchase. 
Bunnycup Embroidery: Best For Embroidery Designs On Baby Projects
Baby items are among the most popular embroidery projects, and if you're someone looking for these embroidery designs and items, you will enjoy checking the baby and children categories Bunnycup Embroidery. The site can also help you save on the project cost as they offer free embroidery designs and applique design sets. 
Oregon Patchworks: Best For Value For Money Embroidery Designs
You should check out Oregon Patchworks if you want the most out of your design purchase. The store even sometimes offers 50% off the price of their embroidery designs with bonus designs if you order a specific amount. 
SWAK Embroidery: Best For Blackwork Embroidery Projects
If you adore blackwork embroidery designs, one of the best websites to download designs for a reasonable cost is SWAK Embroidery. Some blackwork embroidery designs are free, and those you can purchase come in sets of different sizes for under $10. 
Benefits Of Using Embroidery Design Websites
Save time on making the embroidery design
It's helpful for people, especially those new to doing embroidery projects, to use embroidery design websites because you only need to choose among the variety of machine embroidery designs the store offers. You can find the category for the file or project you want and simply download it according to the program or format of your embroidery machine. 
Most places have a selection of embroidery designs and projects you can do. For example, would you want to do in-the-hoop embroidery and make stuffed animals and purses? 
Practice more embroidery projects
Even if you're only familiar with a certain type of embroidery, you can practice other with other projects through embroidery design websites. Find something you don't always do and download that design to your embroidery machine. 
You don't need to spend most of your time making embroidery designs because these websites have designers that did the designs for you. You can even check if the store can make customized embroidery designs for a cost. 
Some embroidery designs are free
Did you know that most embroidery design websites offer free machine embroidery designs and projects? And even those that require you to purchase the download sometimes offer freebies, like other projects or appliance design sets.
This is why it's sometimes helpful to sign up for the site's newsletter to be updated with deals and freebies. You can score new free designs daily, but check if you can sell them, as some designs are protected by copyright. 
You can quickly check if the embroidery design fits with your embroidery machine
A convenient feature when browning embroidery designs on embroidery design websites is that each file already shows you its format. You'll immediately know if it's compatible with your embroidery machine. 
But more often, each embroidery design already comes in all formats for most embroidery machines. Check affordable embroidery designs, as these files sometimes only come in one format. 
Here are the machine embroidery design formats:
| | |
| --- | --- |
| Bernina | Art |
| Janome | JEF |
| Husqvarna / Viking | HUS, VP3, and VIP |
| Brother Deco / Babylock | PEC / PES |
| Pfaff | PCS, PCD, PCM |
| Singer | X |
| Melco / Bravo | EXP |
| Tajima | DST |
Some embroidery design websites also offer supplies and kits for reasonable prices
For the user's convenience, embroidery design websites also sell kits and supplies for every embroidery design and project. So if you fancy a design but don't have the threads for it, check the store's section too if they offer them. 
You can also find sales of embroidery supplies for purchase, so you can stock up before they run out at home, especially if you often do machine embroidery. For example, purchase stabilizers, especially when doing many projects with embroidered logos, so that the fabric stitches will hold up well. 
Some embroidery design sites have tutorials for newbies in embroidery, applique designs, and needlework
Interestingly, embroidery design websites also offer information and tutorials for machine embroidery. They might be written content or videos with instructions for various designs and projects. 
They're often free, and some websites even have a place for people to post their questions. You should also check the FAQ page if you have questions about the files for purchase or download. 
Types Of Embroidery Design Websites
Designer Embroidery Design Websites 
The most common type of embroidery design website is a place that offers a selection of categories for different embroidery designs and projects. For example, you can browse the list of in-the-hoop, applique, key fob, free-standing lace, redwork, and rippled embroidery. 
However, be mindful that some designs are protected by copyright. Therefore, you can't use these designs on things you'll sell for profit unless they use a Commercial Use License. 
Custom Embroidery Design Websites 
Some embroidery design sites even offer custom designs for people. You can contact the store's designers and turn your envisioned design into a digital embroidery pattern.
It could be personal artwork or something sentimental like a picture of your pet. But of course, they often come at a high cost, so find the website's page to get a quote. 
How To Choose The Right Embroidery Design Website
According to Statista, over 1,000 embroidery design websites exist in the United States, which makes choosing among them overwhelming. You can consider these four things to help you decide on the best place to get your embroidery styles. 
Consider your budget for embroidery designs
If you're limited on your budget, you should pick a site with affordable or sale machine embroidery designs. Some even offer free designs, a sampler, or sets with freebies if you purchase a specific amount of things.
Choose something with an extensive list of embroidery design categories and a variety of embroidery projects
The average number of embroidery designs per website is over 1,500, so it should be easy to find a shop that offers the designs you want to download. However, make sure the files come in a format compatible with your embroidery machine. 
You might want tutorials and information about machine embroidery
You'll benefit from an authoritative embroidery design website with a FAQ page or many tutorials for embroidery projects. It should also have a help page with information for downloading or purchasing embroidery design files. 
It's convenient to purchase embroidery kits and supplies in one place
It's more convenient if the embroidery design website also has a store where you can buy supplies like thread, fabric, hoops, or embroidery kits. For example, you might not have these supplies home for the specific project or design you bought. 
And speaking of tutorials, learn more about the art of embroidery stitching with our comprehensive content.
How To Use Embroidery Design Websites
Browse the list of designs on the embroidery website

Utilize the categories so you can find or choose the embroidery project you want

Pick the file you want to download onto your computer

Add the non-priority designs to your wish list for later purchase 

Extract the downloaded embroidery design, but do not click on the files because the computer doesn't have the program to open them

Transfer the extracted files onto a USB stick, usually included in embroidery machines 

Use the USB stick on your embroidery machine 

You can also check the store's information page or FAQ regarding downloads and formats of their files
Alternatives To Embroidery Design Websites
Embroidery design websites are online platforms that offer a wide range of embroidery designs for purchase. Many websites offer both free and paid designs, with the paid designs often being of higher quality.
However, you can just create your own design for free with embroidery pattern makers. You can cut costs by getting the store to customize your embroidery design. 
Stitchboard Free Pattern Wizard
You can upload your desired image into Stitchboard to turn it into a design according to your preferred colors, stitches, and stitch type. You can also make an account to access other features. 
Ink/Stitch
You can also learn Ink/Stitch's platform to digitize your machine embroidery designs. Learning takes some time, but it uses a free, open-source platform. 
Some other tools you can use to make your own embroidery designs if you're limited by the selection offered on embroidery design websites include Pixel Stitch, Pic2Pat, and Stitching Joy. Some will allow you to choose the thread type, colors, and the number of stitches, with patterns that include the exact thread colors you'll need. 
If you want to practice, try these easy embroidery project ideas for beginners. 
Where Can I Design My Own Embroidery Pattern?
Upload the embroidery design to your computer
You can use your computer to make embroidery designs. For example, designers who hand-draw their projects can scan them and upload them to their computers, trace the lines, and add details using Adobe Illustrator. 
You can also use embroidery software to upload a photo you want to digitize into an embroidery file for your machine. However, you need to familiarize yourself with the embroidery software's features, especially as a beginner designer. 
Use free online embroidery design software
Some embroidery design programs and tools are free for public use. For example, Bernina Artlink7 is free and compatible with most embroidery machines. 
If your projects and designs have letters, use BitFontMaker2. The website is easy to use, and they offer free fonts. 
How To Get Free Embroidery Designs?
Most embroidery design websites have a variety of free things you can download. Some even have free projects and designs daily. 
You can also check the site's newsletter to see if they offer a sampler or free kits with a specific purchase cost. For example, if you've spent $20, you might score various applique designs for free. 
Or, if you want a custom embroidery design for free, you can upload your image on some websites and digitize them. You can also access free software, but some may require a learning curve to familiarize yourself with the features. 
What Is The Easiest Embroidery Software To Use?
The easiest embroidery software will depend on each person, but you can test Floriani, SewWhat-Pro, or Sierra. Let's take a look at each piece of software: 
Floriani Embroidery Software
The Floriani Embroidery Software is typically seen in sewing stores, and its functions are easy to learn. The advantage of this program is classes for using it are usually available in person, so you can quickly understand and get the most out of it rather than learn it on your own. 
SewWhat-Pro
If you're looking for embroidery software that's easy to learn and the cost won't break the bank, check out SewWhat-Pro. You can even find videos on Youtube to learn this software. 
Sierra Software 
Sierra Software is another cost-effective embroidery software because it offers a monthly subscription for small periodic payments. They even have a free plugin to organize your embroidery designs, and written content and videos are available for tutorials. 
Conclusion
And that's it! You have just learned the best embroidery design websites for free, an affordable, and an extensive list of embroidery designs to choose from.
They are EmbroideryDesigns.com, EmbroideryLibrary.com, UrbanThreads.com, Designs by Juju, Anita Goodesign, Daily Embroidery, Sweet Pea Machine Embroidery, Sulky, Ann The Gran, Bunnycup Embroidery, Oregon Patchworks, and SWAK Embroidery. But if you want to create your own pattern, Stitchboard Free Pattern Wizard and Ink/Stitch are free.