Last Updated on 1 month by Susan Mayrich
Do you want to know how to fix a hole in pants? So you have a pair of pants or jeans that you love the most and fits you perfectly, but right now, they are ripped, and you're not sure how you can fix a hole in your pants or jeans.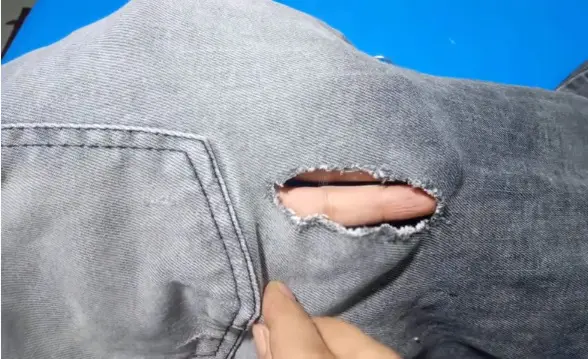 No matter how big the hole in your pants or your jeans, there are always easy ways and methods you can use to repair your clothes. These methods work pretty well on any fabric, whether jeans, dresses, shirts, pants, sweaters, and for men, women, or children.
In addition, you don't need to own a sewing machine to use this method. The hole in your pants or jeans happens for many reasons, but whatever the reason, there are ways to fix a hole in pants or a hole in jeans in less than 10 minutes.
Ways To Fix A Hole In Pants
Here are the ways to know about how to fix a hole in pants:
#1. Using a hole patch
We will use an iron-on patch, and this is the simplest and easiest method to fix a hole in pants. This fabric patch repair method works pretty well with heavier fabrics such as canvas and denim. Here are the steps that you should follow:
Step #1. Buy an iron-on patch that matches the color of your pants or jeans or white.
Step #2. Place the back adhesive side of the patch over the hole of your jeans.
Step #3. The edge of the patch should cover at least a quarter-inch of pants.
Step #4. Using light pressure, ironed the patch until when it was bonded.
Now the hole is fixed. Next, try to check the results.
#2. Using hemming tape
Using hemming tape is another excellent method you can use to fix a hole in your pants. The tap is a must for those of us who don't know how to sew or those with no time to sew. Using hemming tape works pretty well, and you can iron quickly.
My dear friends, follow these steps:
Step #1. Get this hemming tape from Amazon or in any nearby craft shop, supermarket, or grocery store.
Step #2. Cut a piece of hemming tape according to the size of the hole of your pants.
Step #3. Place the tape alongside the hole on the pants.
Step #4. Heat the iron and place the cloth over the area you want to iron.
Step #5. Then iron for around 20 seconds, but don't overheat as the tape will melt.
I guess it's helpful to read about how to remove hem tape from fabric.
How to fix a hole in jeans tutorial?
#3. Using hand embroidery
This method works pretty well for those equipped with hand embroidery knowledge. It is excellent for fixing old jeans with exciting decorations.
What you need:
Needles
Embroidery hoops
The fabric
Thread or floss
How to quickly fix a hole in jeans with hand embroidery?
#4. Using fashion tape/garment tape
This is another method to repair a tear in fabric before anyone even notices it. Try to do these things:
#1. Prepare the pant with a hole to cover and lay them very straight.
#2. Peel off a piece of garment or fashion tape and cover the hole on the pants.
This garment tape is excellent for:
Doing a quick fix on your pants;
Helping belt straps from flapping, and
Keeping a dress from shifting.
Anyway, you may want to read about how to fix a hole in your pants or how fix holes jeans.
#5. Using darning stitches
This is one of the simplest hand embroidery methods of fixing a hole in pants but also works best with fabric with small holes. Though darning with a sewing machine might be the fastest way, using hands works pretty well. You may also be interested to know about darning a stocking.
Using Darning Technique to fix a hole in pants
Related Articles
How To Fix Hole In Shirt Without Sewing
How to Fix a Ripped Seam Without Sewing in 30 Seconds
It's A Wrap!
One of the ways to fix a hole in pants or jeans without sewing is by using a fabric repair patch. Heat-activated tape and hamming tape. Just cover the hole in your jeans with a patch, iron for 30 seconds, and you're good to go. We're happy that you already know how to fix a hole in pants. I hope the methods mentioned above will help you how to fix a hole in your pants. Please share with your friends and family if you love this.