A skirt is one of the easiest ways to achieve a look that is both stylish and feminine. A khaki skirt is a classic piece that can be worn with almost any top or blouse. When choosing tops to wear with the khaki skirt, it's important to consider the colors of both your top and your skirt.
Choosing a top to wear with a khaki skirt is just as easy as choosing the skirt itself.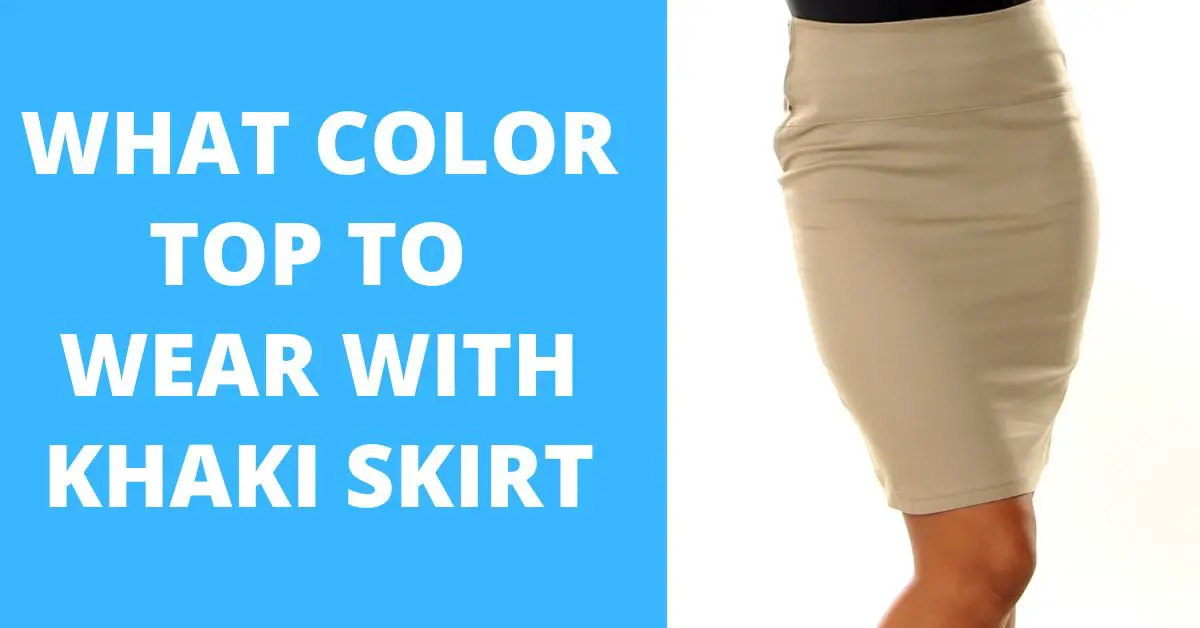 In fact, you can wear pretty much any color top with khakis; you don't need to stick to one specific color palette.
That said, there are some colors that work better than others. Here's what we recommend:
Khaki Skirts Outfits Ideas
White Tops
A white top is an excellent choice for pairing with khaki skirts because it's so versatile. You can wear it with a pair of jeans or shorts for a casual look or with slacks or a dressy skirt for more formal occasions.
A white shirt is also great for layering under sweaters and jackets when it's cold outside but not too cold that you need a coat yet.
Black and White Striped Tee
A black and white striped tee is a perfect match for your khaki skirt because it enhances your look. The contrast between the two colors makes you look taller and slimmer.
The black top also offers you an elegant look without making you appear too casual or dressy.
White Blouse & Cardigan
This one is a little dressier than the striped tee and gives your outfit an even more polished look. If you want to go for this look, I would suggest keeping the rest of your outfit relatively simple so that your focus stays on the top piece of clothing (which should be white).
You could wear jeans or other pants in this case as well if you wanted something more casual but still looked nice enough for work or school.
Pink Blazer
A pink blazer is another great choice to go with your khaki skirt. This will make your outfit look more stylish and chic while giving you a sophisticated look at the same time.
Blue Tank Top
This is one of the most common color combinations. The blue tank top is a great choice because it's simple and easy to match with almost any khaki skirt.
It also works well with other types of clothing like jeans or skirts in different colors. For a more formal look, try a black leather jacket over the top.
White Vest Top
The white vest top is another option for those who want to wear khaki skirts but do not want to look too formal or boring at work or during casual events.
You can wear this top with any kind of bottoms such as pants or even skirts, but if you do choose to go with a skirt then make sure that it does not have much going on besides being plain and simple because otherwise, your outfit will look too busy and uncomfortable when worn together.
Denim Shirt
If you want to create a fun look with your khaki skirt then denim shirts are ideal for this as they add more color to the outfit, making it more interesting than just wearing the same old thing every day.
Denim shirts come in so many different colors and styles that there's no limit on what kind of outfit you can create with them.
Blue and Grey Striped Tee
This is the perfect top to wear with colored bottoms. It's a great way to add color to your outfit without making it too busy. The stripes will bring out the color in the skirt, making it look even more vibrant.
A grey or blue striped tee is a must-have in every woman's wardrobe, but this one has been made even more stylish with the addition of a small bow at the back. This makes it easy to dress up or down depending on what you need from your outfit that day.
Chambray Shirt
Chambray is a very versatile fabric that can be dressed up or down. It's breathable, which makes it ideal for warmer months, and it's also easy to wash and dry.
This top has a loose fit and can be worn with anything from jeans to skirts.
Black Skinny Fit Sweater
The black skinny-fit sweater is an excellent choice as it will go well with most outfits and make sure that you stand out in the crowd. This sweater is perfect for those who want their outfit to be more on the casual side but still look stylish.
Grey V-Neck Sweater
Sweaters are one of those pieces of clothing that can make any outfit look great regardless if it's formal or casual. If you want to add some style to your outfit then we recommend going with this grey v-neck sweater because it goes well with most colors and styles as well as being comfortable enough so that you can wear it all day long without feeling too hot or uncomfortable while wearing this piece of clothing.
Light Brown Top
Darker colors tend to make us look heavier than we really are (especially when we're wearing them under bright lights), so light brown tops are great for adding some warmth without making you appear larger than you really are.
Plus, they have an earthy vibe that complements the natural color of the khaki fabric perfectly.
White Button Up Shirt
A white button-up shirt is one of the most versatile pieces in your closet. It's easy to dress up or down, and it looks great with anything from jeans to skirts. I love wearing my white button-up with my khaki skirt for an easy weekend look.
Neutral Striped Shirt
Stripes are another staple item in any woman's wardrobe. They go with everything from jeans to dresses and can be worn year-round.
My neutral striped shirt is perfect for pairing with my khaki skirt because it adds just enough pattern without being too busy or distracting from the main event of the skirt.
Final Thoughts
With so many fashion choices, it can be hard to decide on the right outfit combination. I hope this guide will inspire you to create and think outside the box. Get creative, be daring, and most importantly, be confident in what you wear.