Last Updated on 7 months by Susan Mayrich
Are you looking for what color shirt goes with blue shorts? Here are 8 flattering ideas plus outfit tips to upgrade your wardrobe!
We'll help you pair blue shorts with different colors and shades so that you can find the best look for every event. There are many color combinations, but you need the one that flatters you best. 
What Color Shirt Goes With Blue Shorts: 8 Outfits and Combos for All Occasions!
White shirt
If you want a classic, tried and tested combination, you can never go wrong with a white shirt and blue shorts. This is the most popular style, which isn't surprising since white can easily pair with any shade of blue. 
You can wear a universally-flattering look of navy blue shorts and a white shirt. Alternatively, consider light blue shorts and a white shirt outfit for a more casual occasion.
Gray shirt
Another neutral color that will go well with blue shorts is gray. The darker shade is perfect for nighttime looks and flattering if your skin has a cool undertone. 
Gray is even the third most popular color shirt with blue shorts! For a smart ensemble, you can try casual tops like T-shirts or button-up shirts. 
Black shirt and tops
If your shorts have a darker shade of blue, a fashionable clothing choice that will work for all occasions is black. For example, a casual look would be a black T-shirt and dark blue denim shorts.
For a semi-casual look, wear navy shorts and a white inner shirt, then layer it with a black jacket. Finally, pick shoes that are not too casual, like a pair of loafers instead of sneakers. 
Light blue shirt
Did you know that all-blue combos can also look great for different occasions? For example, shorts with lighter shades of blue can work with light blue tops!
Make sure their hues differ so you don't look like your ensemble is just one shade. For example, your blue shirt can be lighter or darker than your blue shorts. 
Red shirt
If your wardrobe at home is primarily warm colors, don't be afraid to pair them with blue shorts. Women, for example, can look stylish with a red blouse and blue denim shorts. 
For men, a red shirt and blue shorts can look really stylish. This is especially attractive if the red clothing has patterns or designs with dark neutral colors like gray or if its shade is closer to maroon. 
Yellow shirt
Yellow and blue are probably one of the most surprising color combinations in this list because imagining the two seems like a bold fashion statement. However, a yellow color shirt can also work with blue shorts or pants, especially for a summer look. 
A light shade of yellow for the top, like those that almost look white, can be flattering navy blue, and other dark hues of blue for the pants. Dark denim shorts and jeans can also be flattering with a mustard-yellow buttoned shirt. 
Orange shirt
Women and men with warm undertones would look great with orange tops. However, if you want a unique look for the occasion, don't be scared to try an orange dressy blouse and blue shorts.
Men who want a casual ensemble can go for an orange shirt with an interesting design and a pair of comfortable blue shorts. Of course, orange can also just be another color in a neutral-colored shirt to add interest to the look (e.g., a blue polo shirt with orange details to pair with blue shorts or pants.)
Striped shirt
Feel free to choose tops and shirts with multiple colors to pair with your navy blue or light blue shorts! For example, if you don't want something that looks too loud, try a striped polo or T-shirt with blue shorts.
Imagine light blue shorts with a white and navy striped shirt will look fantastic. For shorts with darker hues of blue, try a white and blue striped shirt for a contrast option that's not too risky. 
Navy blue shorts are a wardrobe staple because they are easily combined with different colors. The only consideration left when choosing your outfit is the type of occasion you'll attend.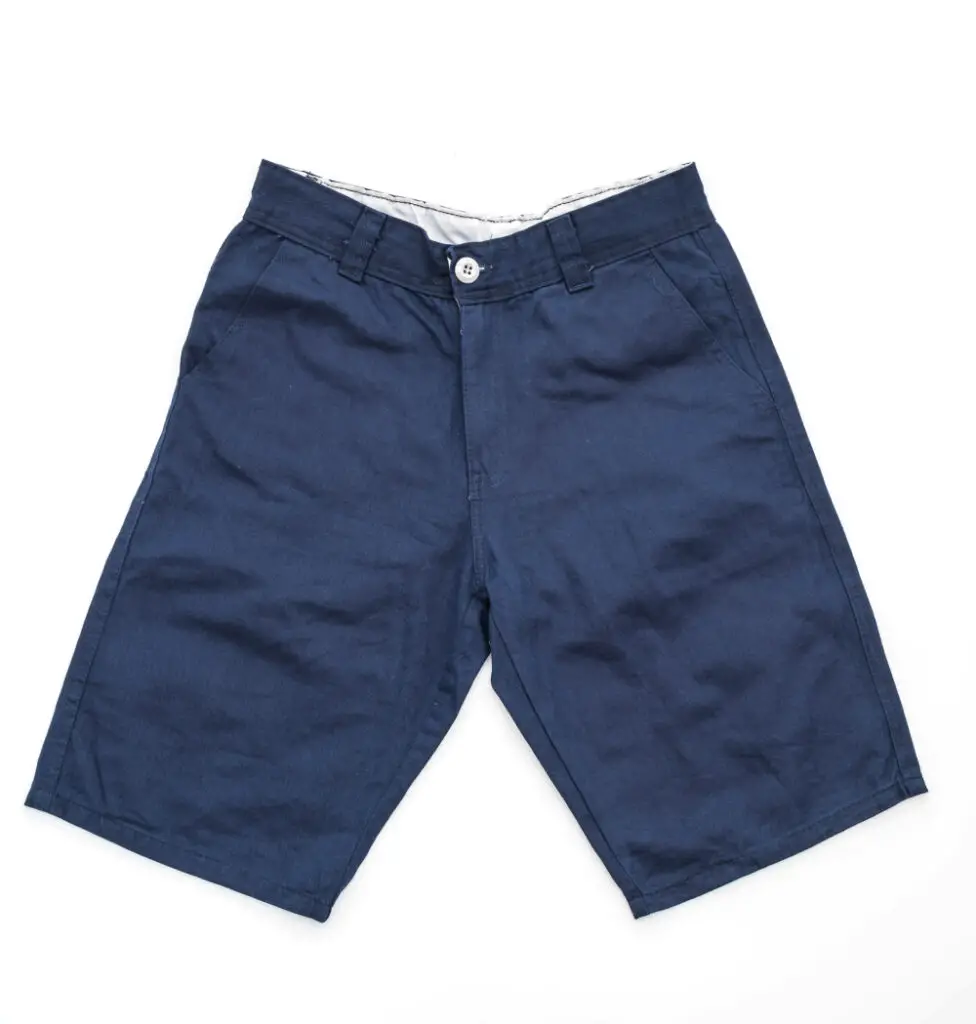 Here are the best clothing ideas and combos for men and women wearing navy shorts:
Blue tops
Yes, you read that right! Blue tops would pair stylishly with navy blue shirts. You can play with different shades of blue tops, whichever suits your undertone and the formality of the occasion. 
White shirts
If you want a clean-looking ensemble, you can never go wrong with a white top and navy blue shorts. A well-fitting polo shirt would look flattering, or a white v-neck shirt for something casual. 
Mint green T-shirts and long-sleeved tops
Perfect for spring, try a striped mint green long-sleeved top or a simple mint green t-shirt with your navy shorts or pants. Then, pick neutral-colored shoes like white sneakers or sandals for a playful but effortless style. 
Black blazers
Consider layering your tops with "safe" colors on accessories like a jacket or blazer. For example, a black blazer would easily go with most shades to finish your look with navy blue shorts. 
Maroon blouse and accessories 
Red shades would be flattering for women wearing navy blue shorts, especially if you're going for an edgy look. Another option is a maroon flannel with beige or light pink details. 
But for formal events and occasions, you might be wearing pants. Here's an outfit guide to help you decide what color shirt goes with navy blue pants. 
What Color Shirt Goes Best With Light Blue Shorts?
Light blue shorts and softer shades of denim shorts are great for a more casual look, especially for summer. However, you can easily dress them up or down with different color combinations. 
Yellow shirt 
Consider color combinations that you don't usually wear! For example, you might be surprised how stylish a yellow top is when you pair it with light blue shorts.
Blue t-shirt
Like navy blue bottoms, a blue top will easily look fantastic with light blue shorts. Remember to play with contrasts so the ensemble won't be reminiscent of a one-piece jumper. 
Black jacket
Consider light colors for your overall style with the light blue shorts, then layer with anything dark such as a jacket or blazer. For example, combine light blue shorts, and a light green top, then add a black jacket to finish the look. 
White top 
Pairing light shades together doesn't have to be boring. However, a white color shirt can also work with light blue shorts if you add contrasting accessories or dark-colored shoes. 
If you want more options besides this list, get more fashionable ideas when you read what goes with light blue shorts. 
What Color Shirt Goes Best With Royal Blue Shorts?
For a fun pop of color, why not try royal blue shorts over other shades of blue? But because of its bright tone, choosing the colors to pair with it can be a bit challenging. 
Choose from these options, and ultimately, go with a combination that showcases your personal style best: 
Black tops
A black top will always be a safe pairing with royal blue shorts. However, don't forget to accessorize and include light colors in your overall ensemble. 
White t-shirts
You can also choose a white T-shirt with a flattering neckline for your navy blue shorts. This color combination would also look great with black details and accessories. 
Brown shirts 
A unique but surprisingly fashionable color combination is brown and navy blue! You can also choose a brown shirt or top with other textures or details. 
Conclusion
And that's it! To recap what color shirt goes with blue shorts, you can choose between white, gray, black, light blue, red, yellow, orange, or even a striped pattern with two shades. 
Ultimately, the type of blue hue of the shorts and the formality of the occasion should help you find the best combinations. Don't be afraid to try unique combos; you might be surprised by how flattering they look! 
And if you own a unique shade of blue, like aqua, you might like what color shirt goes with aqua shorts!