Last Updated on 11 months by Susan Mayrich
Do you want to know where can I download free embroidery designs? Then, you have arrived at the right place.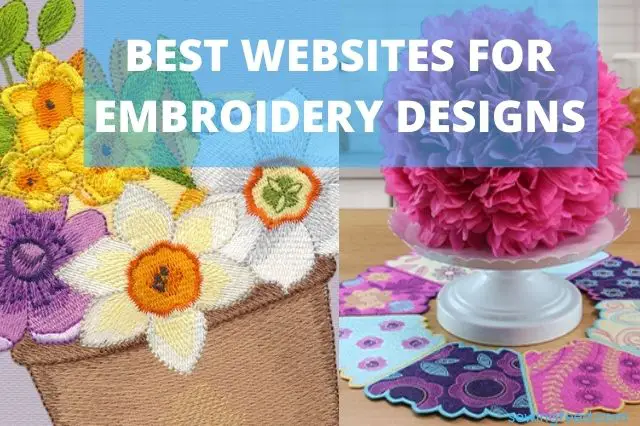 There are so many machine embroidery websites where you can buy hundreds of embroidery designs. Still, it sounds good if you can download free embroidery designs to understand the quality of these embroidery designs and also to explore the variety they offer.
Note: Never download and use copyrighted embroidery designs, especially if you plan to use them commercially. You may get into problems when you sell these designs.
We have compiled a list of the best embroidery design websites where you can download free embroidery designs and patterns. So, without further ado, let's get to the point.
Where Can I Get Free Embroidery Designs?
So, where can I download free embroidery designs? Individual artists give free embroidery designs, internet retailers offer discounts, and major brands provide free rewards to trial their software.
Registering for memberships with specific artists can frequently lead to the cutest and wackiest designs, but checking out online retailers with specials can lead to a more comprehensive selection of free products.
Having a free test or looking at the free designs offered from firms like Brother and Janome may be the most straightforward answer, as this enables customers to have the precise file type you require.
Websites For Free Embroidery Designs?
Below are some renowned websites; you can download the free embroidery designs here. So, keep reading this article and find out about unique designs.
The number one platform offers hundreds of free embroidery designs, and you can buy premium designs and patterns.
Embroideryonline offers free embroidery designs and freebies. In addition, they add designs and offer free machine embroidery designs in multiple formats.
The creative fabric gives you hundred's of free machine embroidery designs to download. You also get free fonts, free S.V.D.s, and free graphics.
Embroidered is one of the top machine embroidery websites where you can access thousands of free download embroidery designs libraries. You can test the quality in any format and size instant download without registering or paying.
Get free machine embroidery designs from Annthegran. You can enjoy fantastic embroidery designs from more than 15000 designs and patterns on this embroidery site.
One of the embroidery sites with a massive variety of free machine embroidery design themes and color combinations. You get endless designs to choose from.
Give you access to free machine embroidery design and applique design set.
Sewing Craft gives you a wide array of free patterns and projects to try with your embroidery or quilting machine, especially if you're a beginner.
This is another excellent embroidery site where you can get the best free embroidery patterns and fand embroidery designs freebies in any format, such as DST format.
This site has a lot of animals, symbols, logos, objects, necks, dresses, lace borders, and many more ways in popular embroidery format. It also has an awesome collection of paid designs. For our readers, they provided a coupon code "SEWINGFEED" (use it without a quote) to receive a 25% discount on any products you want from the site.
Other Embroidery Sites Where You Download Free Embroidery Design Include:
Oma's place
Embroideryshristi
Urbanthreads
Frequently Asked Questions
Here are the answers to your questions:
What is the best free embroidery software for home use?
The best free embroidery software home use includes:
My editor editing software.
B.E.S. Embroidery software 3
Truesizer web for Apple and Android devices
Bernina art link 7
Oma's place
Embroideryshristi
Urbanthreads
How can I get free embroidery?
You can get free embroidery from Embroiderydesigns.com, Annthegran.com, Embroideres.com, DCM.com, Bunnycup.com, Creativefabrica, and many other embroidery designs websites.
How intricate is embroidery?
Embroidery is not complicated, though it requires a reasonable amount of time invested. Using the embroidery machine gives you free access to online sewing classes. Also, there are thousands of tutorials on Youtube on how to embroider.
What is the most accessible embroidery software to use?
If you're a beginner, the most accessible embroidery software is My Editor editing embroidery software. It is straightforward and comes with tutorials.
Is machine embroidery easy?
Yes, machine embroidery is a straightforward, simple, and fun way to personalize your clothing items and sewing projects.
Where can I buy embroidery patterns?
The best place to buy embroidery patterns is ibroidery.com, Embroiderydesigns.com, and many other sites.
How can I get free embroidery designs?
Best sites to find free embroidery designs and patterns
EmbroideryDesigns.com.
Oregon patchworks.
Embroideres.com.
Ann the gran.
Creative Fabrica.
Oma's place.
SWAK embroidery.
Embroider
How much does custom embroidery cost?
Custom embroidery costs anywhere from $5 – $10.
What is cheaper embroidery or screen printing?
Screen printing is a bit cheaper than embroidery. But also it depends on the machine and the material you're using.
Can you use any fabric for embroidery?
Yes, you can use any fabric for embroidery though the best materials are cotton, linen, flour, muslin, and many others.
What are the three methods of transferring design?
The three methods of transferring design include lightbox, carbon or graphite transfer, and Iron on transfer. You may also be interested to know about troubleshooting embroidery designs.
It's A Wrap!
Finally, we have answered your question: where can I download free embroidery designs? We have mentioned the top-rated websites where you can easily download the embroidery designs. Thank you, friends, for reading this article until the end! You may also want to read about easy embroidery project ideas for beginners.