Last Updated on 10 months by Susan Mayrich
There are 9 methods you can try on how to remove logos from clothing safely. We'll discuss each way, so you'll know what type of logo they remove best to avoid damaging your clothing fabrics.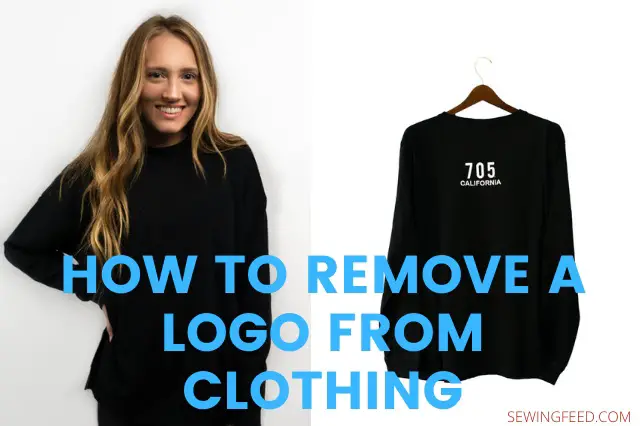 You'll also know the tips and tricks for removing prints on clothes without using chemicals or heat. We've even shared how to hide logos on clothes if you don't find a suitable method. 
9 Effective Methods On How To Remove Logos From Clothing (For Every Kind Of Logo Print!)
Did you know that over 50% of people in the US have removed a logo from clothing at least once in their lifetime? Choose from these techniques to know the most effective and safest technique to remove prints and logos on clothes: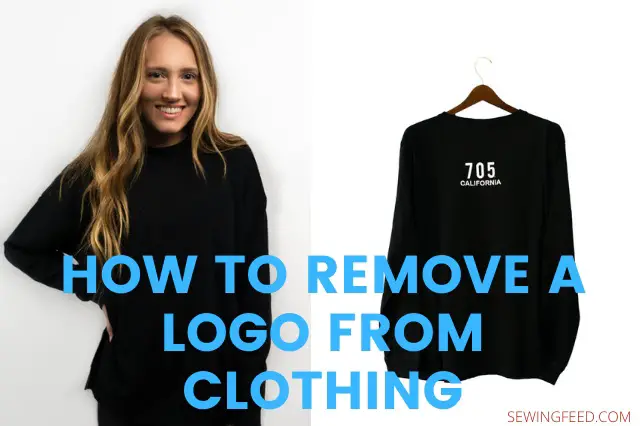 Image by Hoffman-Unsplash
Method 1. How To Remove Logos From Clothing Using A Seam Ripper
A common method for removing logos on t-shirts and other clothing items is using a seam ripper. After all, most people own a seam ripper at home, and it's also not as intimidating as using chemicals or solvents. 
Materials
Scissors

Seam ripper

Darning needle

Tweezers 

Lint roller
Steps
Turn the clothing inside out 

Cut and remove as much stabilizer as you can from the logo 

Slide the seam ripper under a few logo stitches and lift up at a bit of an angle

Cut a few stitches at a time if the cloth fabric is thin to keep it from getting damaged; you can cut more stitches at once if the cloth fabric is thicker to speed up the process

Turn the t-shirt or clothing item right-side out to check the threads at the front

Pull the stitches out of the front of the clothing by sliding a darning needle under them and pulling with tweezers

Clean the area where you removed the logo stitches with a lint roller
Method 2. How To Remove Logos From Clothing With A Pressing Iron
A heat press is another common solution for removing logos on clothes. This technique is ideal for prints on cotton shirts. 
Materials
Steps
Check the hottest temperature possible for the specific fabric of your garment to avoid burning the shirt

Set the iron to the safest but hottest temperature possible for your clothing and lay the garment on an ironing board with the print facing up

Put a rag inside the shirt for protection 

Place the iron on the corner of the logo print to see if it melts 

Work the iron around the logo quickly so the print peels up 

Lower the heat if the garment is getting damaged

If leftover adhesives from the print are on the material, you can remove them with rubbing alcohol 
If your t-shirt logos are iron-on prints, refer to this guide on how to remove an iron-on transfer.

Method 3. How To Remove Logos From Clothing With Solvent
Solvents are an effective technique for removing rubber and vinyl logos on shirts and hoodies. However, always test the solvent on a small piece of the garment before proceeding with the information below:
Materials  
Nail polish remover or alcohol

Knife 

Washing machine 
Steps
Test the nail remover or alcohol on a small part of the clothing item to ensure that it won't damage the type of fabric it has

Turn the t-shirt inside out and place the material on a flat surface

Soak the back of the garment with the solvent by pouring just the right amount of solution over it 

Stretch the cloth to allow the solvent to soak the logo evenly 

Turn the shirt right side out and scrape off the print with a knife carefully

Start scraping the logo's edges, then use your fingers to remove the print entirely

Wash the fabric in the washing machine afterward to remove the solvent and residues 
Method 4. How To Remove Logos From Clothing With Plastisol Remover
A Plastisol remover is the most effective way to remove different types of screen-printed designs. However, to avoid exposure to harmful fumes, you want to be careful with this chemical and always do the process outside or somewhere ventilated, like when working with solvents like acetone. 
Materials
Plastisol remover 

Soft cloth

Gloves

Brush

Washing machine 
Steps
Wear gloves and work somewhere ventilated

Soak a soft cloth in Plastisol remover and put it over the clothing logo

Let the areas rest

Gently brush the logo to remove the flaking ink completely

Wash the clothes in the washing machine to remove the chemicals 
Method 5. How To Remove Logos From Clothing With Sugar Scrub
You can also use a sugar scrub to remove the shirt logos, like exfoliating your skin. However, this technique will only work if the logo's ink is relatively fresh or it's only a small screen print design. 
Materials
Sugar 

Soft brush

Washing machine 
Steps
Start the process with a tablespoon of sugar and pour it over the print

Rub the sugar over the design gently; you can do this with your fingers or with a cloth

Make gentle circular motions to rub off the logo on the garment surface

Wipe away the sugar with a soft brush once the print is removed  

Wash the clothing item in the washing machine 
Method 6. How To Remove Logos From Clothing Using Razor Blade Or Knife
According to statistics, over 25% of people have used a razor blade to remove a logo from clothing. You can also use a knife (or anything sharp as a scraper) slowly to avoid damaging the shirt or hoodie when scraping off the dried lettering. 
Materials
Razor blade or knife

A heat source like a hair dryer, steam, iron, or heat gun

Tweezers 

Rubbing alcohol

Washing machine 
Steps
If you're removing vinyl designs like heat transfer vinyl lettering on hoodies, you should soften the logo first with a heat source

You can position a hair dryer over the design to loosen the adhesives 

Scrape the edge of the logo with a razor blade or knife, but be mindful of soft fabrics that might get cut easily

After lifting the print of the garment, pull it gently with tweezers, not fingers, as they're hot

Remove the residues with rubbing alcohol before washing the clothing item 
Method 7. How To Remove Logos From Clothing Using Brush And Detergent
One practical method for removing freshly painted logos on clothes is with a detergent. However, this technique is only helpful for design colors made from latex, craft, or poster paint. 
Materials
Soft brush

Water

Detergent products
Steps
For freshly applied painted logos, scrape off as much paint as possible

Run the garment under warm water, then spot-treat with laundry detergent

Scrub the design with a soft brush until it's removed

Wash the clothing item and repeat as needed 
Method 8. How To Remove Logos From Clothing Using Cold Water Rinse
A cold water rinse is an easy process for removing logos from screen printing. However, this is only effective on new prints, such as mistakes from fresh designs on t-shirts, hoodies, or other wearable things. 
Materials
Washing machine

Detergent that's safe for your clothing fabric 
Steps
Spot-treat the painted logo with liquid detergent

Rub the detergent into the painted logo with your fingers

Let the material sit for 15 minutes

Rinse in cold water

Wash the garment at the hottest temperature possible 
Method 9. How To Remove Logos From Clothing By Fading With Washing
If you want a faded or distressed style on your t-shirt or pair of pants, you can use your washing machine to fade it with the logo. However, this technique might only partially remove the design on your garment. 
Materials
Detergent product

Washing machine
Steps
Make sure your clothing fabric can withstand hot temperatures

Set the washing machine to at least 130°F 

Put the things in the washing machine, and then add your detergent

Let the clothes air dry and do four more washing cycles until the logo has faded 
How To Remove Heat-Pressed Logos From Clothing?
Any method that uses heat effectively removes heat-pressed logos, like heat transfer vinyl prints. You can refer to the method discussed above that uses iron or a hairdryer. 
It's also possible to use chemicals like acetone and remove the residue with petroleum jelly or alcohol. If the print is stubborn, you can purchase commercial vinyl removers. 
How To Remove Embroidered Logos From Clothing?
Remove embroidered logos with a seam ripper or blade. This takes a lot of work since you'll manually remove the stitching. 
Then, you can clean the finished area with a lint roller to remove the leftover threads. Alternatively, there are embroidery erasers that are effective on different stitch patterns. 
How To Remove Glued Logos From Clothing?
The logo might be a sticker on the t-shirt, and the garment is made of synthetic fabric. You can use dish soap and warm water to remove the glue and residues.
Freeze the clothing item for an hour, then pick off as much glue as possible. Wet the print and rub it with dish soap and a soft cloth before soaking it in warm water for 20 minutes to remove the residues. 
How To Remove Rubber Logos From Clothing?
Solvents are effective for removing rubber designs. However, always test the chemical on a small spot of your garment before proceeding with the remover. 
If, after soaking and there is still some residue on the fabric, you can loosen the print within the fibers with petroleum jelly. Then, spot treat with laundry detergent and hand wash the garment. 
How To Remove Screen Print Logos From Clothing?
There are several ways to remove screen print logos on clothes, like the methods above that use an iron, solvent, chemical, or scrub. However, since Plastisol ink is commonly used in screen printing, you can use the Plastisol remover method above. 
Here are the instructions on how to remove screen printing from clothing for the best results.
How To Remove Logos From Clothing Without Using Chemicals?
Depending on the type of print, ink, or clothing fabric, you can get away with chemical-free methods for removing logos and designs. They include the following: 
Ironing and peeling the logo

Cold water rinsing

Fading with washing

Scrubbing the logo 
Consider any technique mentioned, as chemical solvents can damage the fabric if not used properly. However, chemicals effectively dissolve the adhesive that holds the logos in place, so approximately 5% of people have used a chemical solvent to remove a logo from clothing.
How To Remove Logos From Clothing Without Using Heat?
You can use solvents or laundry detergent to remove logos from clothes if you don't want to apply heat to the fabric. However, heat is necessary to remove logos from clothing, as it loosens the adhesive that holds the logo in place.
Statistically speaking, approximately 10% of people have used a heat gun to remove a logo from clothing. Just remember to start with the lowest setting or immediately adjust the temperature after the logo is raised. 
How Do You Hide A Logo On Clothes?
The most popular type of logo to be removed is a brand logo, with over 70% of logo removal requests being for brand logos. But if you can't find a safe process for the type of logo ink or clothing fabric you have, you can hide the logo. 
Some purposely fade the clothes and the logo for a vintage-style shirt. You can also cover the logo with a patch with a timeless design. 
Pick between an iron-on patch for easy application or sewing the patch with a sewing machine or by hand. You also don't need to buy a patch since you can upcycle clothes with fun prints or fabrics to cover the clothing logo. 
Conclusion
And that's it! To recap how to remove logos from clothing, you can use heat, chemicals, blades, scrubbing, or simply washing the fabrics. 
The best method depends on the garment material and logo ink. And for additional reference, check this guide on how to remove logos from shirt. 
We hope this list gave you an idea, but leave us a comment below if you have more questions.